No More Free Returns with PayPal
IMPORTANT UPDATE: Unfortunately PayPal's PayPal's free refunded returns feature ended on 26 November 2022.
View Table of Contents
PayPal's free refunded returns service stopped in 2022
For full details about the closure, see PayPal's free returns FAQ. This amazing free service ran for several years until 26 November 2022 and:
refunded your return postage costs worldwide up to €30/$30/£15/$45 AUD (amount depended on region)
could also be used if the retailer deducted a shipping charge when you returned items
could be used up to 12 times a year (note number depended on your region e.g. it was 8 times per year for Australia)
It sounds too good to be true, but it really worked! I last used it in September 2022 and got my refund within a few days - no hassle at all. Here's a screenshot:
How PayPal return shipping costs refunds worked (pre November 2022)
The one gotcha was you needed to active the refunded returns service on your PayPal account before you bought (by 26 September 2022 at the latest). Then, you just needed to remember to pay with PayPal!

When you returned your order, you needed to take pictures of:

the return package showing the retailer address
your post office receipt showing the postage cost
You then had 30 days from when you returned your order to request a return postage refund from PayPal.
The one and only time my refund request was refused was because I left it over 30 days, because I forgot about claiming until the store processed my return which took AGES!
Tip: PayPal are strict on the 30 day limit. So it's a good idea to put in your claim the day you send your items back before you forget about it.

The process was very straightforward. You went to your account activity page, clicked into the transaction & clicked on the 'Request return shipping refund' link near the bottom of the screen.
This brought you to a short form. You attached your pictures showing proof of your postage charges & where you sent the package.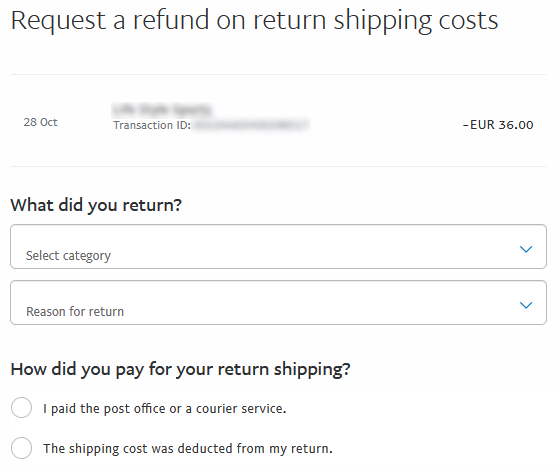 How long did it take to get your return shipping refund?
You got an email within 5 working days to say whether your refund request was approved. You then got your refund within a further 5 working days. So you should have your money back within 2 weeks.
Personally, I got my refunds more quickly. I last used the refunded returns service in September 2022. I did the request on a Friday, got approval on Tuesday and my refund on Wednesday - just 5 days overall including a weekend.
Buy big shoes from small businesses
It's a real shame that PayPal's free returns service stopped in November 2022 after several years.
Selling large women's shoes is a tricky niche & it's just not viable for many online stores to offer free returns. Often these are very small businesses run by women with larger shoe sizes themselves.
PayPal's free returns scheme helped us support independent shoe brands designing especially for larger sizes like Otto+Ivy (UK), Smash Shoes (USA) or Bohobo (Australia). Find many more stores for your shoe size in the Pretty Big Shoes directory.