How to use PayPal's free refunded returns feature: how to return online shopping for free
Online shopping is a lifesaver for women with big feet. Many of us have no local shops stocking our shoe size but we can access a world of footwear thanks to the internet.

Not every pair of shoes you buy online works out though. If only! It's not just you - up to 40% of shoes bought online are returned.

Unfortunately many online shoe stores don't offer free returns either. Newsflash: posting shoes ain't cheap!

However, once a store accepts PayPal, you're in luck. Pay with PayPal & they can refund the cost of your return postage.
PayPal's free refunded returns service
This amazing free service:
refunds your return postage costs worldwide up to €30/$30/£15/$45 AUD (amount depends on region)
can also be used if the retailer deducts a shipping charge when you return items
can be used up to 12 times a year (note number depends on your region e.g. it's 8 times per year for Australia)
It sounds too good to be true, but isn't! My family have used the PayPal refunded returns service several times in recent years without any problems.
Check your PayPal account BEFORE you buy
The one gotcha is you must explicitly activate the refunded returns service on your PayPal account before you buy.
To do this, go to the Paypal refunded returns information page & click the blue 'Activate in 1 click' button.
Not sure if you are already signed up? Just click the activate button & you will see if return refunds are already active on your PayPal account.
Once activated, just remember to pay with PayPal!
How to get your return postage refunded by PayPal
When you return your order, you need to take pictures of:
the return package showing the retailer address
your post office receipt showing the postage cost
You then have 30 days from when you post your order back to request a return postage refund from PayPal.
The process is very straightforward. Just go to your account activity page, click into the transaction & click on the 'Request return shipping refund' link near the bottom of the screen.
This brings you to a short form. Just fill this out & attach your pictures showing proof of your postage charges & where you sent the package.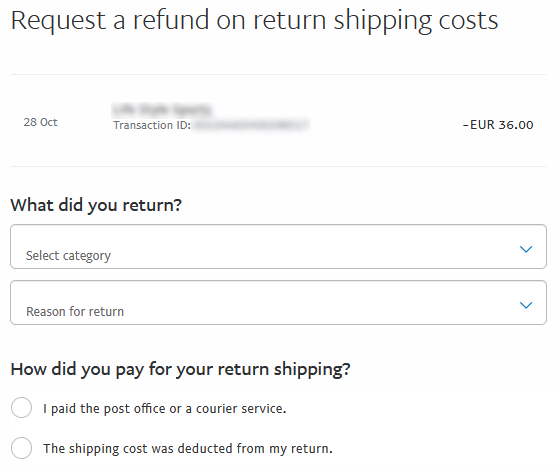 You should get an email within 5 working days to say whether your refund request was approved. You should then get your refund within another 5 working days. So you should have your money back within 2 weeks.
Buy big shoes from small businesses
Large women's shoes is a tricky niche & it's just not viable for many online stores to offer free returns. Often these are very small businesses run by women with larger shoe sizes themselves.

PayPal's free returns scheme can help us support these independent shoe stores. Discover shoe brands created especially for larger sizes like Otto+Ivy (UK), The Shoe Garden (Australia) or Smash Shoes (USA). Find many more stores for your shoe size in the PBS directory.
Try something different & you may just find your dream shoes. And if the shoes don't fit, just send them back & let PayPal foot the bill.

And what to do with all those return postage refunds? Put them towards more pretty big shoes of course! 😍